What are you going to do?
The Friendship Circle serves over 75 children and teens with special needs through the Sunday Circle, Friends@Home, Teen Scene, and Summer Camp programs. At the heart of each Friendship Circle program, typical teens volunteer one-on-one with a child with special needs to promote inclusion and friendship.
Each one of The Friendship Circle's programs is rapidly expanding. In addition to accommodating additional participants each year, The Friendship Circle has been providing service to children and teens with more severe disabilities. Our programs are evolving and getting stronger but we need to make some major investments to ensure that we continue providing high quality services. The Friendship Circle needs $7,900 to create a sensory station that is monitored and supported by therapists. Though this equipment is very therapeutic, many families cannot afford to have it in their own home.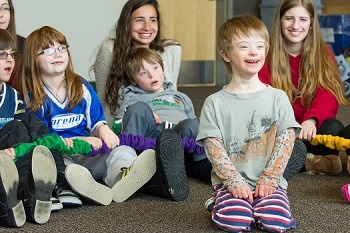 The equipment that The Friendship Circle will purchase will help stimulate children with developmental disabilities and anxiety issues while promoting relaxation. This special equipment has multi-sensory experiences with sight, sound, touch, and smell or can be adapted for a single sensory focus. The equipment does not require language, which is important for those with more severe autism or developmental delays. Therapists will be available to train volunteers and to ensure that the children are maximizing their experience.
Benefits
The availability of this equipment will allow children to have a "safe zone" if the environment becomes too stressful

Equipment will give volunteers new ways to engage their buddies

Equipment is super portable and storable, making it useful for all Friendship Circle programs

Equipment allows every child to maximize his or her experience at The Friendship Circle

Equipment is easily adaptable to meet the needs of any child

Increased therapist time will ensure that the equipment is being used to its maximum

capability and that all time spent at The Friendship Circle is fun and

therapeutic
Please visit this website for an example of the equipment that The Friendship Circle will purchase!
Thank you!
Therapists
Awesome Volunteers
About Therapists
Professional Therapy Staff: Art Therapist, Movement Therapist, Music Therapist, Recreation Therapist, Behavioral Therapist, Sport Therapist and Kung Fu Master
About Awesome Volunteers
The backbone of the success of the Friendship Circle is a group of over 100 dedicated teen volunteers who give their time, love and commitment to families with children that have special needs. This unique formula allows us to bridge the gap between typical and special needs community creating a seamless circle of friendship!